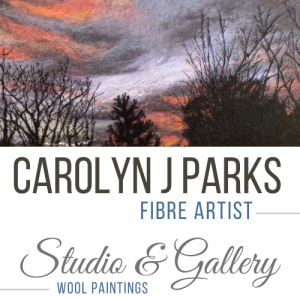 9 Cedar Street West St. Jacobs
A half block from the Three Sisters, this studio is the creative centre for Carolyn Parks.
---
Darlene Bolahood
@ Carolyn J Parks Studio & Gallery
From their Wild Mohair studio in Kitchener, Ontario, Darlene Bolahood and Charles Sylge handcraft throws, winter scarves, caps, shawls and knitting yarns using only the finest hand dyed kid mohair. Mohair is the warmest, lightest, softest and strongest of the natural luxury fibres. In addition to practices in Fibre Arts, Dar also engages in sculpture, painting, stone carving and drawing.
---
Kim McKellar
@ Carolyn J Parks Studio & Gallery
Kim McKellar is an artist and writer from the Bruce Peninsula, Ontario. She creates fine art pieces in kiln-fired glass as well as being a painter, potter and poet. She received her BA in Fine Arts and English from Wilfrid Laurier University, and has trained at the Corning Museum of Glass and Oatka Glass in New York and with Alice Benvie-Gebhart in Rhode Island. Her glass works have been exhibited in many galleries in Southern Ontario and are in private collections across the world.
---
Carolyn Parks
@ Carolyn J Parks Studio & Gallery
Carolyn Parks is a fibre artist working and teaching out of her studio in St. Jacobs. She uses the process of wet felting wool to create wool 'paintings'. Carolyn is most often inspired by the simple yet beautiful nature scenes that unfold constantly around us all. Carolyn is the Chair of the Kissing Bridge Art Tour and enjoys participating in this show along with other gallery exhibits in Ontario.
---