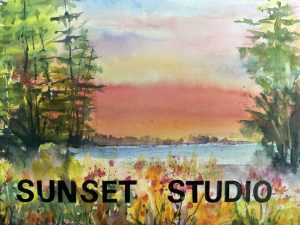 7 Isley Dr, Maryhill
---
Tania Klimasko – Hoffman
@ Sunset Studio 7 Isley Dr, Maryhill
Tania Klimasko Hoffman is aMaryhill and Southhampton, Ontario artist who paints vibrant impressionistic paintings in watercolour and acrylic. She paints florals, landscapes and portraits infused with bright, bold colour. Tania also paints intuitively, spontaneously and sensitively, striving to capture emotion in any given moment. After a fulfilling career teaching the Arts, Tania continues to focus on her passion: creating beautiful works of art.
---
Janet Rix
@ Sunset Studio 7 Isley Dr, Maryhill
Janet Rix creates exciting acrylic paintings depicting rugged landscapes in all weather and seasons. They range from expansive, dramatic panoramas to the tiniest lichen clinging to rock. Janet takes her inspiration from camping trips into wilderness areas and her paintings invite the viewer with the wilder textures of the natural world. She has an MFA from York University and has been an arts educator in Toronto for twenty-two years.